Innovations are Happening
Check back frequently as the AUC Data Science Initiative is constantly innovating with high-performance projects and programs to develop and strengthen the data science workforce and community.

National Data Science Alliance (NDSA)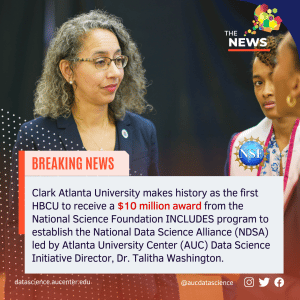 The AUC Data Science Initiative is proud to spearhead the groundbreaking development of the National Data Science Alliance (NDSA).  Through its leadership and expertise, the AUC DSI will support the NDSA's goals of increasing the number of Black people earning data science credentials by at least 20,000 by 2027 and expanding data science research that advocates for social justice and strive to eliminate bias.
To accomplish this visionary goal, the NDSA will facilitate engagement across all HBCUs with industry and academic collaboration to broaden participation and advance social justice in data science.
This AUC Data Science Initiative's mega-outreach operation will be headquartered at Clark Atlanta University (CAU), which became the first Historically Black College and University (HBCU) to receive a $10 million award from the National Science Foundation (NSF) INCLUDES program to establish the National Data Science Alliance (NDSA).
NSF REU Site: Application of Data Science to Chemistry
Chemistry majors and other STEM (Science, Technology, Engineering and Math) majors interested in the interface between materials chemistry and data science are encouraged to apply to participate in a 9-week undergraduate research program hosted by Clark Atlanta University and Atlanta University Center Data Science Initiative. Participants will gain broad perspectives by participating in a dynamic research environment while working with a faculty mentor at one of the five research groups consisting of one chemistry and one data science faculty member. The program also includes several professional development activities, REU seminars with faculty and research scientists, and an end-of-program symposium.
Participants will receive a stipend of $5,400 for the 9-week program, a travel allowance, and housing on the Clark Atlanta University campus. In addition to this, the HarvardX's Data Science certificate and GRE preparation costs for participating students will be covered under the program. Participants must be U.S citizens or permanent residents of the U.S. and currently enrolled in an undergraduate degree program at a U.S. college or university (be rising sophomores - seniors).
SAP and Coca-Cola: Virtual Computer Lab
 SAP and Coca-Cola have partnered together with the AUC Data Science Initiative  and the AUC Robert W. Woodruff Library to create the AUC Virtual Computer Lab which will soon be available to all students and faculty at AUC member institutions: Clark Atlanta University, Morehouse College, Morehouse School of Medicine, and Spelman College.
The AUC Virtual Computer Lab will be the cornerstone of data science across the AC and allow students to access software, technology, and learning tools they need to become leading data scientists from anywhere, and on any device. The Lab will facilitate the use of computational platforms used by various disciplines to carry out data science work. The AUC Data Science Initiative in particular, will be utilizing the Virtual Computer Lab to teach its first course, "Data and the African Diaspora."
Working Groups
The AUC Data Science Working Groups are made up of faculty and staff to aid in elevating data science research, scholarship, and teaching at the AUC member institutions. The Working Groups are designed to facilitate AUC-wide collaborations to increase data science knowledge, awareness, and best practices. 
Sloan Foundation Grant: ODxOS [COMPLETED]
The AUC Data Science Initiative was awarded a $249,994 grant from the Sloan Foundation to implement an "AUC-Sloan Open Source Software Development Postbaccalaureate Program," also referred to as "Open Doors by Open Source", in was executed in the summer of 2021. 
As open source software development is essential to the collaborative nature of data science, this Program will strengthen efforts to develop a well-skilled data science workforce.
This Program trained Black computing graduates to prepare them for competitive positions at high-tech companies, created course components to embed software development into the undergraduate curriculum, shared promising practices with the AUC institutions and other HBCUs, and has helped diversify the high-tech field. 
"Data analytics has become the vital skill for business students in today's environment. Recruiters emphasize it constantly and we are hearing from our alumni and interns returning from the summer that they need to strengthen these skills. It does not matter which area of business you plan to enter; you need to know how to understand and analyze data."
— Dr. Keith Hollingsworth, Department of Business Administration, Morehouse College